The faux fur hood padded parka from Mint Velvet
£169
. Currently get 15% off, free p&p and returns using code "Fall" at checkout until October 5th.
Bodens Diminishing Discount. Up until midnight tonight you can get 20% off, plus free delivery and returns, Friday - 15% and Saturday - 10%. Use code DIM5 at checkout
here
. That
spotty jumper
may be mine after all!
Net-A-Porters extremely purse friendly new sunglasses brand "Le Specs". With prices from as little as £28 and a celebrity following including Solange Knowles and Miranda Kerr, this Australian eyewear brands retro shapes are sure to be a sell out. See the full collection
here
.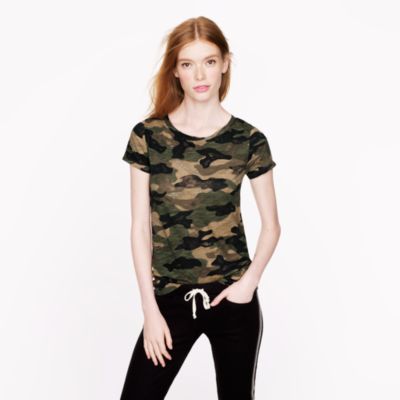 The 25% off at JCrew is high on my radar, so much gorgeousness to behold for the coming season! Whether you are looking to invest in cashmere or on trend pieces such as their camo t-shirt above, use code "INSIDER" at checkout until midnight 21st September
here
.
What's on your radar this week