Transeasonal. A word coined in the fashion world in more recent years to describe items of clothing that will serve you well during the crossover of seasons, but its seems as though in 2013 I went from wearing my winter coat to a summer dress with little need for lightweight spring jackets (did we actually have a spring, I can't remember, I know my Tulips were very late) and now we are forging our way into autumn, I've gone from flip flops to boots and desperately wanting to put the heating on, all within the short space of just 24 hours.
I shouldn't really moan, at least we had the best summer we've had in the UK for years, even if I did break out in a hot sweat every time I opened my wardrobe and a cardigan caught my eye!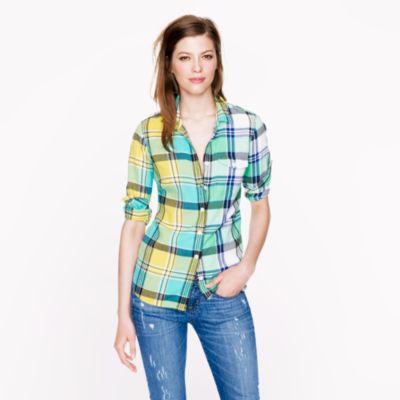 So what to buy now (if I had the funds and it wasn't Claudia's 21st birthday in 12 days) well first up, I would be tapping into the tartan trend with a check shirt. I love the colours of the J Crew green plaid womens shirt as they are so cheery and far removed from your usual autumnal colour palette, which bores me to tears (although I do love grey and am partial to navy). It is also a great piece for laying, under a biker jacket and over a long sleeve basic t-shirt but that's a whole other post. The whole point of transeasonal pieces is that they can take you through the seasons and this would work well with shorts in summer or as a swimsuit cover-up, so you would easily get your money's worth on a cost per wear basis.
£74.38
.
The lounge wear trend is still at the forefront of autumn fashion with joggers and sweatshirts in abundance. Although you can't go wrong with a classic grey sweat top, I am rather smitten with the Jaeger one above which will go with everything and work with skirts as well as jeans and khaki's. A piece that is very easy to dress up or down.
£60
.
My transeasonal t-shirt pick has to be the tweed fronted jersey t-shirt from Jigsaw. Now you know I am more than a little partial to anything tweed or boucle looking, a la Chanel, so you can see why this one caught my eye. It's also a great update on a classic which can be worn over a smart white shirt or thin long sleeve top for extra warmth when the temperature drops. Crafted from heritage Linton tweed if this top doesn't scream "effortless style" I don't know what does! Just slip on your jeans, ballet pumps and a statement necklace for ladylike daytime luxe.
£98
.
What transeasonal tops are top of your list?
P.S. My internet is being a bit of a mare at the moment and I await a new router to deal with my intermittent connection. So hopefully normal service will resume shortly xx