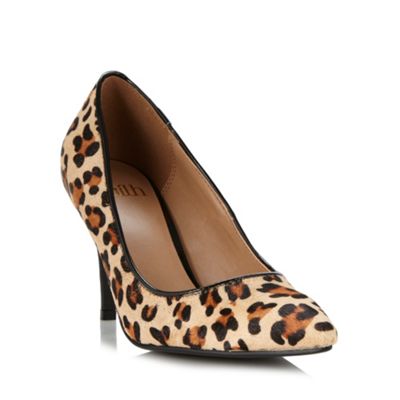 Whilst walking through Debenhams the other day, a couple of pairs of shoes caught my eye. Both excellent prices and much nicer in the flesh than in the website pictures. Out of stock in store in my size, but I struck lucky online, something I didn't expect.
The Leopard print ones speak for themselves, as much of a shoe staple as a black court shoe, as they go with so much in your wardrobe and although I already have a pair, they have a platform and are more rounded, whereas I prefer a more pointed toe. The one's on the right are described as purple on the website, but trust me they are not, they are cobalt blue, a colour I am always drawn to. Just imagine how these will brighten up a dark outfit, we all like a pop of colour during a dull winters day or evening don't we?
But sales apart and the many bargains that are still around both instore and online, I've been looking at new season court shoes and choosing my edit of those that will dress up your jeans or turn you into the most stylish guest at any summer wedding. I mean who says you can't buy the shoes first then find the outfit to match?
Givenchy Floral Pump
£455
There are so many simply divine pairs of court shoes out there but these have to come top of my list, perfect for those who don't like to actually wear florals, I wouldn't mind these for my daughters wedding in June. Youngest daughter who works at NAP tells me that in the studio they have to shoot Givenchy with Givenchy, they are not allowed to style it with other brands for their website. Just a little note for all you fashion geeks out there!
Karen Millen Peep Toe Shoe
£125
When it comes to pastels, I am pretty much always drawn to candyfloss/blush shades far more than blues, but even I can't fail to fall for these pastel blue beauties, true peep toe perfection.
Astro Courts, Carvela
£120
I fell in love with a big orange hat the other day and now I am really annoyed I didn't buy it. Mind you I would probably end up never being able to find a dress to match the hat and these gorgeous orange leopard shoes!
Bigtime Court Shoes
£85
Dune
The stripe addiction isn't just reserved for clothing. Give me a stripe with a dash of red thrown in for a nod to nautical naughtiness. Hello Sailor!
The description on the website makes these classic court shoes sound as delicious as they look! Glossy white patent meets sorbet suede with a grapefruit toe cap. Sold to the lady who won't be able to walk in them! Choo Choo!!
So go on, tell me which ones are your favourites and do you have court shoes on your spring wish list?