Yes get me a slot on that TV show will you because nobody can possibly be moaning more than me at the moment and it's all down to clothes, or the lack of them.
Firstly over my mother of the bride dress. The Etro NAP bargain (above) went back. I felt it was too dark even though it had pattern and print which I wanted. I just can't find anything. Or is it a case of what I want doesn't exist? There is too much black around for my liking, er hello designers this is spring and summer collections, we want colour and florals (well I do) not wishy washy plain coloured pastel dresses and more black than we can shake a stick it! Black is for winter not for summer weddings so someone needs to get with the programme and pronto if you ask me.
Now this Marni dress would be perfect if only the model wasn't wearing the size 40 and the largest in stock is a 44. Could buy two I suppose....... And sew them together?
The new in
Marni at TheOutnet
has some gorgeous pieces but yes you've guessed it, all the dresses in my size are too dark.
As you can imagine I am trying to avoid certain shops synonymous with wedding guest attire, imagine the horror of someone else in the same dress. Same goes for shops like
Warehouse
(who have some lovely stock) as all the younger guests will shop there. Ditto frumpy mother of the bride brands er I'm not 65 - yet. Standards have to be maintained.
Even bloody Cos have failed to come up trumps and to think I got two gorgeous dresses there last spring, can't wear those, both have been borrowed by the bride and worn to weddings where her friends were also guests. I'm getting grumpy again.
I mentioned in a previous post about getting a dress made and how that idea was no longer possible as the only person locally who used to make dresses now only does alterations, due to lack of time and decent fabrics. Having spent many hours looking at material online, I know what she means, I have to admit I didn't find anything I liked. She also said having a dress made is as costly as buying a designer number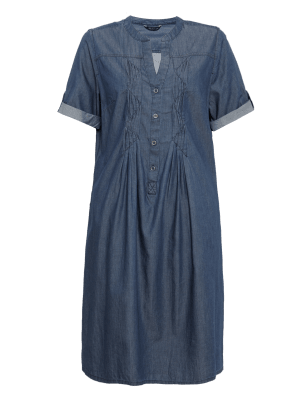 Then there is the Marks and Spencer denim dress which I want, a perfect replacement for a Gap one I had which was similar in style (I've lost it), has a discount (now
£31.60
) and of course is out of stock in my size. In fact more sizes are going out of stock by the day. So annoying.
Finally there is the case of the
Boden diminishing discount
. I thought I would put this to get use, get in early and nab the 20% off and get the denim shorts (my old Juicy Couture ones have seen better days) for my daughters hen do in Marbella - well guess what, out of stock in my size.
I think my thirteen year old son hit the nail on the head with our conversation the other day:-
Me: I really don't know what to do with your two pairs of Nike Blazers, they are still like new but nobody wears them any more do they?
Charlie: No not really. She's a cruel mistress, fashion.