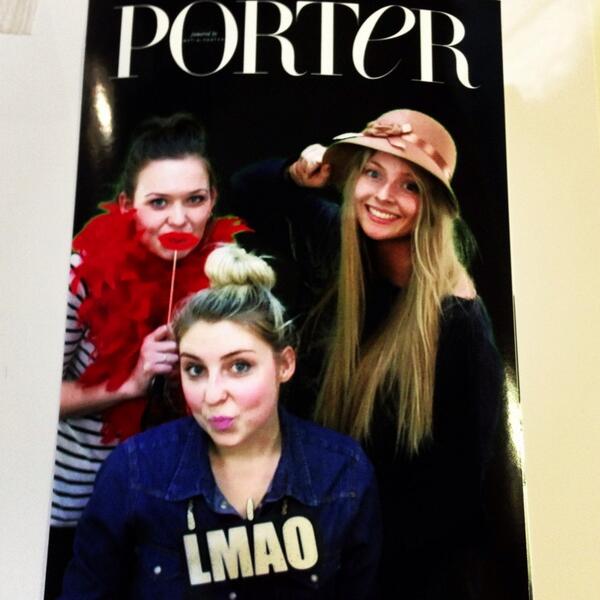 Good to see my youngest daughter having fun with a couple of the other interns and sporting the LMAO slogan in the photobooth at Net-A-Porter to celebrate the launch of Porter magazine at work on Friday.
The NAP group are boldly going into print, slap bang in the middle of a digital age where many people think the glossy mags as we know them, may in fact struggle to survive. At £5 per copy, the magazine is up there with the likes of Vogue and Harpers and having looked at it yesterday, I can confirm it is the glossiest of glossies (if that makes sense) with page after page of the hottest catwalk trends and style inspiration.
You can purchase an annual subscription which comprises of six copies delivered straight to your door with free access to the digital edition or just order a single copy
here
. We don't do valentines gifts in this house (too old for all that) but if we did, a subscription to this would be right up there with champagne truffles, roses and perfume, so be sure to nudge your other half in the right direction and have something you can enjoy all year round!
If bold prints and designer collaborations are your thing then you will be pleased to hear that Peter Pilotto for Target launched at Net-A-Porter this morning. With two daughters poised at their laptops waiting for the range to go live, a few things have been ordered which I can't wait to see in real life.
Prices are really reasonable, much better than some we have seen on the high street recently and the holiday range of sunglasses, beach towels and swimsuits are just as inviting as pretty crepe dresses at £40 and the floral canvas slip on sneakers (£30) will be replacing the £100 leopard print ones on your wishlist for sure. Shop the collection
here
.
Have you bought the magazine or something from the Peter Pilotto collection for Target yet?