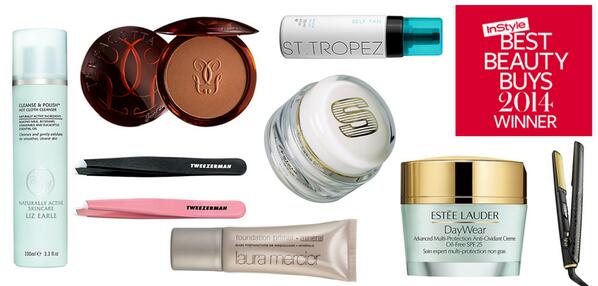 I always look forward to the annual InStyle beauty awards and even though you see the same cult products feature year after year, there are always a few new gems that get added to my "must try" list as this is a collection of lotions and potions voted for by industry insiders and beauty professionals, so if it's good enough for them and all that!
I also like to go through the list to see if I am currently using anything featured or have used them in the past and agree with the voting panel's choices. I think it's fair to say that quite a few products get my vote!
You can check out all the featured products at John Lewis
here
.
Although I love premium beauty brands, years of my own research have bought me to the conclusion that good skin and how your skin ages is more often down to genetics, keeping out of the sun and not smoking, other than that, lots of high street brands contain the same ingredients as their premium brand counterparts so I am not adverse to picking up something from Aldi and always browse around Boots and Superdrug looking out for 3 for 2's or special offers and this week I stumbled across a new range exclusively at Superdrug called B.
Now I love a GWP as much as the next woman so when I noticed that if you bought a product from the range you got five samples and a money off your next purchase voucher, it didn't take long before a £2.45 cleanser was in my basket! I like something quick and easy to remove make-up at night and am going off wipes to be honest so this seemed perfect.
The freebie included the same cleansing water that I bought full size along with a serum, SPF 15 day cream, lipstick and cream bronze eye colour which I have swatched below. The sizes of the samples will be perfect for a weekend away, I shall save mine for my daughters hen trip, they are probably not quite big enough for a weeks holiday.
B is a cruelty free brand of both skincare and make-up which comes in phases specifically designed for your age group. Their facial oil for the over 50's was recently featured in the Daily Mail and with the entire range currently half price, what's not to love?
B is described as a premium beauty brand and I certainly think the prices are purse friendly so won't hesitate to buy more whilst it remains on offer. The Gift With Purchase doesn't seem to be available online but Superdrug are currently offering free delivery on orders over £10. Check out the range
here
.
How many of the Instyle products are your favourites and have you tried the new range from Superdrug?