I had my eye on the M&S denim dress the whole way through Frugal February and managed to resist, but as soon as we hit March and Marks and Spencer had a 20% off dresses promotion, it had to be mine. Out of stock in my size, luckily one of my daughters was going to Bluewater and managed to pick it up for me, so my first spring purchase has been made!
There are lots of denim dresses around at the moment in various styles but this one caught my eye because it's shape is so similar to a Gap denim dress I had for years and is perfect for us apple shapes or skimming over anyone's tummy area.
It fits well over the shoulders and bust and as the material is quite stiff at the moment (it will soften with a few washes) it balances out my hips perfectly so I look more in proportion.
The only thing I don't like on me is the length. Being such a shortie the hemline is on a wider part of my calf, so it might look better if I take it up an inch but I probably won't bother, I seem to be allergic to needle and thread!
Overall an easy piece that will take the hard work out of summer daytime dressing worn above with middle daughters Peter Pilotto for Target pumps (good job I have one daughter who is the same shoe size!). I'm sure I could wear it now with tights and ankle boots, it would have saved you all the sight of my white legs, honestly I've seen skimmed milk darker in colour, time for a Fake Bake me thinks!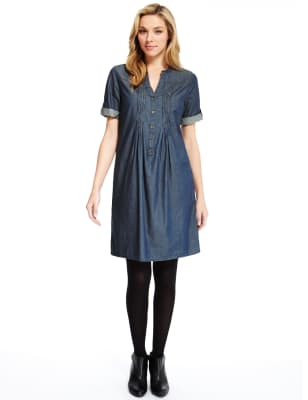 M&S denim dress
£39.50
, looks like the promotion has ended but still a great price compared to what else is around, take a look at my favourites below.............
Linea Weekend Shirt Dress
£70
Baukjen Adrianna Chambray Shirt Dress
£109
Will a denim dress be part of your spring and summer wardrobe?