After indulging in designer swimwear for many years (mainly Pucci and Missoni) the time came when the two piece swimwear headed off to ebay and in my head I wore a chic black one piece down to the pool. I bought a couple of swimsuits in the classic black, red and grey colour palette and have not felt at all comfortable in them these past few years and now, and it's taken some time, I have finally had my swimwear lightbulb moment.
When you think about womens bodies and this has nothing to do with age or size, bear in mind here that I fake tan people for a living so get to see literally all shapes and sizes in a state of undress and one thing I have realised over the years is you don't have to be overweight to have problem areas. Saggy "mum tums" and cellulite on boobs, bums and tums is a problem for many and as for anyone like myself who has had a c-section where you stomach muscles have been cut, you can end up with quite a visible little (or big depending on your size) lip. It might sound like a strange description but I don't know what else to call it and I have heard other women refer to theirs in this manner.
Lepel Chica Spot Swimsuit at Simply Beach
£38
Taking all of the above along with my own body issues into account, I have come to realise that a solid colour swimsuit doesn't always disguise cellulite or the "lip". Sure enough a soft and wobbly mum tum will benefit from a bit of ruching and a control swimsuit, so a solid colour for this is fine, but if you are looking to disguise anything else my best advice would be to ditch the plain and opt for a far more forgiving print, whether you go for bold, bright and colourful or a more discreet monochrome one piece.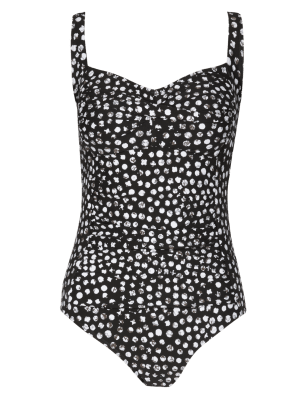 Spotted Tummy Control Swimsuit
£35
Marks and Spencer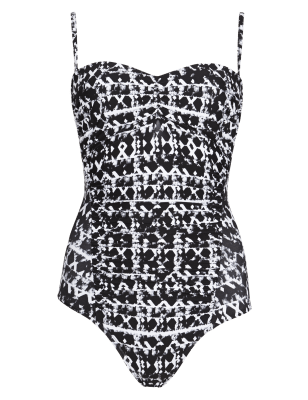 Monochrome Swimsuit
£35
Marks and Spencer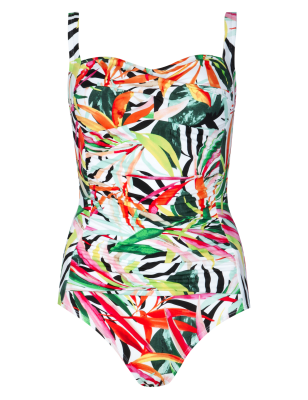 Tummy Control Glamazon Print
£35
Marks and Spencer
Are you swapping your two piece for a one piece this year? Patterned or Plain, what is your preference and which do you find best to disguise your own personal body issues?
Top image via Pinterest