There are many things that I am passionate about when it comes to clothes and styling and one of those things is all about creating a capsule holiday wardrobe and teaching women how to "demote" their clothes to get maximum use out of each and every garment they take away with them which featured in an article I once wrote for "In The Powder Room".
With so many holiday makers including myself, opting out of paying additional baggage charges (which can really add up for a family) it's time to get inventive with your packing to stay well within your limits, something I have been doing for years and now have down to a fine art. 10kg of hand baggage can be daunting task even for the most experienced stylist or wardrobe consultant but rest assured it can be done with some of my hints and tips.
It always amazes me to think the size of cabin cases are only slightly bigger than a Louis Vuitton Musette!
Style At Every Ages Hand Baggage Only Packing Tips
Give some thought to your carry on and your airlines policy concerning hand baggage. At the time of updating this post (April 2014) British Airways allow you to take a handbag in addidition to your carry on suitcase. This is so handy as it means you can get hubby to fill a "man bag" and the kids to take a rucksack. Easyjet and Monarch only allow your carry on suitcase, so if you are in the market for buying one, may I firstly suggest one of the lightweight options and the second most important thing is that it has a zipped pocket on the front where you can keep your passport and travel documents, even your 1 litre of liquids as this will save you from having to open the main body of your case every time you might need a tissue or your boarding pass. Also bear in mind four wheeled cases are slightly easier to manoeuvre than two wheeled.
I love Debenhams for luggage as it's very often reduced and they stock Tripp cases which I have a deep affection for (I have a full sized case that has had years of use from both me and my girls).
1.The Tripp Glide Lite II has four wheels, a zip front pocket, weighs 2.8kg and has a capacity of 29 litres reduced from £150 to
£46
. Not the prettiest of cases but extremely practical and the all important pocket front.
2. The magenta Tripp hard shell case is so attractive if not as practical. No pocket but weighs the same as the lightweight one above but this one has a large capacity of 32 litres, so its swings and roundabouts. Comes in other colours was £100 now
£39
.
What To Put In Your Case
First of all you need to think about your destination and the length of your stay.
Hand luggage may be fine for a week away but you may well struggle for a fortnight unless you are happy to wear everything twice!
Think about laundry services at your chosen destination. If you are staying at a hotel find out costs of clothes cleaning and the implications of packing designated travel wash to rinse out swimsuits and underwear with the 100ml liquids rule. If you are staying in an apartment, is there a washing machine and a local supermarket where you can buy washing powder?
What sort of dress code does your destination call for? You will need a different set of clothes for a city break as you will for a week in the sun, also a week in Ibiza clubbing will call for a different set of clothes than a glamorous location where women dress up more at night, like St Tropez or Marbella.
Toiletries And Skincare
Taking full size bottles of shampoo and conditioner along with all the other necessary toiletries and skincare can take up an awful lot of your baggage allowance, so rethink how to make these items travel friendly, keeping within the 100ml liquid rule and the total 1 Litre allowance per person if travelling with hand luggage only.
Travel sized products are not cost effective and at the time this post was originally generated (approx 2011) a 75ml bottle of Imperial Leather Foamburst shower gel at Superdrug costs £1.20, whereas the 200ml bottle is £2.59 but is part of an offer where you buy 2 for £2.99! So for £2.99 you get a total of 400ml but only a 75ml travel size for £1.20! Buy purchasing the travel sized product you are paying a whopping £1.60 per ml, whereas by investing in the full size product, each ml costs only 75p!
Take make-up wipes instead of cleanser and nail polish removing pads rather than a bottle of remover to save on liquid limits. The Bourjois Magic Nail Polish Remover is perfect for travel £4.99
here
.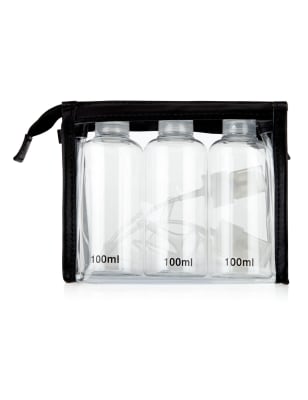 Travel Bottle Set from Marks and Spencer
£4
. The 100ml bottle set is perfect for decanting larger quantities like Sun Tan Lotion etc
£5
.
My top tip for products is decant, decant, decant, especially when it comes to skincare. I keep empty pots from used products for this purpose. I also keep samples of skincare and perfume I pick up from make-up counters, magazine freebies etc as these are usually the perfect size for travelling.
Make sure you label any decanted products correctly as you might get confused as to the contents.
Worried about how much product you need? A few years ago I managed to pick up the Eve Lom travel set in the January sale, £25 at half price (its no longer £50) which I kept for my August Holiday later that year. The cult cleanser in the set was a 30ml size at the time and a 7 day holiday didn't even see me use a ¼ of the pot, so there would have been ample for a fortnight away! The case has come in really handy every year since and houses decanted skincare, sample sized scents for every break or holiday. The set has now changed as it contains a 50ml morning time cleanser and now costs
£75
but all your favourite Eve Lom travel sized products can be purchased separately
here
.
Suntan Lotion, Aftersun and Insect Repellent can be a complete pain when it comes to travelling light and observing liquid limits as they rarely come in 100ml bottles. I've got round this by ordering what I need (including shampoo and conditioner) to pick up from Boots at the airport as once you are through Passport Control, your liquid limits don't matter! When ordering please make sure you select the airside branch and not the landside and that you select the correct terminal, ie north or south, 1,2,3,4 or 5 etc. I set a reminder on my phone to place my order and a reminder to collect once at the airport, bearing in mind my fear of flying leads me to be stoked with Gin and Tonic by then! Orders placed the day before are usually ready for collection after 2pm so think about what time you will be at the airport as to which day you place your order. Don't buy more than you need as you won't be able to bring these large bottles back through with you but if you do have some product left and your plastic bottles are now empty of your decanted product, you won't need to throw anything away. Place your order at Boots
here
.
Gifts With Purchase are perfect travel companions.
Minimise Your make-up
There isn't any need to take loads of make-up away on holiday as a few essential items are all that is needed. Think of your make-up bag as you would a capsule wardrobe of essential pieces and take products that can "double up" and have multiple uses such as "Nars the Multiple" which can be used on eyes, lips, cheeks and body.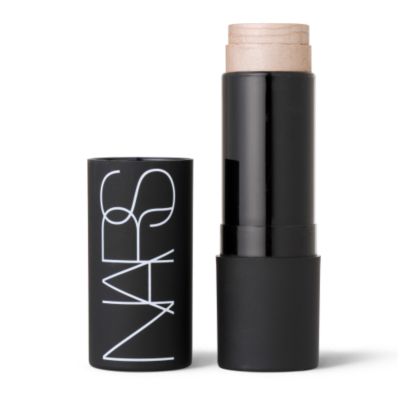 Bobbie Brown Pot Rouge is a dual purpose lip and cheek tint which comes in a range of mouthwatering colours and works easily with a tan when a powder blush feels too heavy and only a wash of lip colour is required.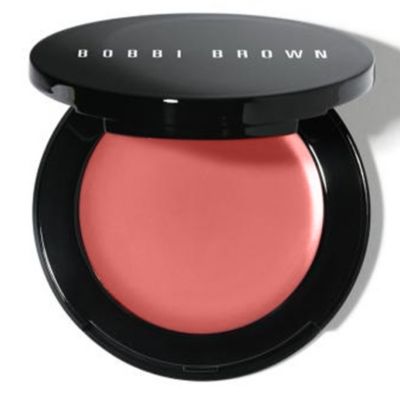 Waterproof Mascara is a must if you don't want to go bare faced round the pool but ditch the eyeliner for day and save for evening.
You can get your eyebrows tinted (usually between £5 and £10) and also your lashes if they are already nice and long and just need a colour. You will usually require a patch test if you have never had this done before so make Salon appointments early and don't leave booking to the last minute in case you can't get in!
Passport to Style
A mix and match capsule wardrobe is absolutely essential when travelling light. Think about demoting your clothes - wearing an item firstly out at night, then downshifting it to daywear. Shorts and vest tops work for evenings when dressed up with wedges and a statement necklace then swap your heels for flats and your necklace for a trilby for a trip to the local market.
Stripe Bikini Top £29 and Bottoms £25 both Boden
here
(tankini and swimsuit also available.
Cut down on the amount of swimwear you need to take away with you by mixing and matching plain pieces with either florals or stripes.
Buy one plain navy and one navy and white stripe bikini so you can wear the stripe top with the navy bottoms and the navy top with the stripe bottoms! Then by wearing each set together, you get a total of four looks from just two sets of swimwear! You can of course choose any solid colour you wish but you know how I love a navy stripe!
Another great way to achieve more "looks for less luggage" is with reversible swimwear like this range from Moontide at Simply Beach (sorry it's navy and white stripe again). A great way to get 4 looks from just one set of swimwear! Top £43 and £40 Bottoms both Moontide at Simply Beach
here
.
A Nude or flesh coloured capsule collection of underwear is a holiday essential when packing light. See why
here
.
Accessories
The easiest way to eliminate the need for packing loads of pairs of shoes is by sticking to metallic coloured footwear. Not only do Gold and Silver go with everything, they also look fabulous with a tan and give real glamour appeal when teamed with chunky costume jewellery!
One pair of heels or wedges for evening, a flat strappy sandal that can be worn for days out sightseeing but look equally as good for evening meals out when you can't face a heel (usually after a day's sightseeing) and one pair of Flip Flops, should be all the footwear you need for a summer beach holiday.
Havianas
and
Ipanema
Flip Flops are by far the best quality and will last you many a holiday for a £20 investment. White can discolour more easily so again, go for metallics, they really will match every swimsuit!
Beach Bag
Use a beach bag that you can also take as carry on hand luggage although only BA allow this, Easyjet and Monarch do not allow anything more than your carry on suitcase, so check with your airline.
I solve this problem by using my Louis Vuitton Neverfull as both my travel bag and my beach bag. Its old enough for me not to worry about getting it marked and strong enough to carry loads of bits and pieces I need for the journey then the only other bag I need to pack is a small evening bag which won't take up valuable packing space. See my top picks for beach/carry on bags
here
.
Pack like a professional
Never leave packing to the last minute! Be organised and take exactly what you need.
Lay all of your holiday clothes out on the bed or hang on a clothes rail and then see how items can be mixed and matched or dressed up or down, for either evening or daytime looks.
If you are not going away until July or August, identify any items that you may need now, make a wish list and purchase the essentials in the summer sales to save money.
Heading to the Sun from September onwards? Make sure to buy swimwear, beach towels and shorts now, as they are not so easy to find on the High Street once the Autumn and Winter collections hit the rails.
Think about your time of arrival when packing. If its p.m. - make sure either your going out clothes or pyjamas and toothbrush are on top, or for a.m., your swimsuit, beach towel, flip flops and sun cream.
Its not always possible to unpack immediately on arrival at your destination, so hang any garments that may be creased in the Bathroom where the steam from the shower will help them to drop out.
Starting with an empty case, pack the longest items first such as maxi dresses, trousers etc. Fold in half and lay flat so that the ends are hanging over the suitcase edge.
Middle: Now put in your folded items such as Tops and shorts. If taking a hat that you don't want to wear on the plane (panama, trilby etc) fill with underwear and place in the middle of your case now. With lots of surrounding support it should keep its shape as it can't be squashed flat it is full of knickers and socks!
Top: The heaviest items go in last as they will help to keep everything else in place, so now pack your shoes, toiletries, beach towel etc. Fill in gaps with your underwear, swimwear, accessories.
Wrap any items with either embellishments or sequins in tissue paper before packing as this will help to prevent damage to surrounding garments.

What Do I Take And What Do I Do?

On family holidays we stay in an apartment and I take a few bits with me to save me money on arrival which are distributed between everybody's cases.
Toilet Rolls - Rarely supplied other than the one in each bathroom on arrival, which always gives me the hump!
Laundry Tablets - not capsules or powder for obvious reasons! I take 5 double packs (10 tablets) and do 5 loads of washing over a weeks holiday. It doesn't bother me and eliminates the need for packing lots of underwear. I only pack 3 sets for each person along with the set we wear when travelling. I don't like packing and bringing home lots of dirty underwear. I also prefer swimwear to be properly washed rather than just rinsed out in a hotel sink. It might bother you but it doesn't bother me with so much time to relax in the sun, hanging out a few bits on the balcony is no hardship.
Washing Up Liquid - We eat out lots so I don't want to be buying a whole bottle to wash up a couple of cups and glasses everyday. I decant this into a 100ml container.
Washing Up Sponge - Why buy one? But I know I will need one and they weigh like zero!
Teabags - I'm the only one who drinks tea so just a handful to see me through the mornings before we go out and maybe one later in the day, sunbathing is hard work you know and sometimes it's nice to come in for a cuppa.



Now put this all into practice and go have fun in the sun!